Welcome to OREGON OUTDOOR EXCURSIONS - Guided Fishing Trips in Oregon on the North Santiam River and Nestucca Estuary!
Come join us for an unforgettable day on some of Oregon's most beautiful rivers! Fish for wild Cutthroat & Rainbow Trout, and other species on the North Santiam and Nestuca Rivers.





Our veteran fly fishing guides take their cue from you. If you want instruction, assistance or advice, we'll give it! If you want us to simply row the boat and leave you alone, we'll do that too. We are experienced in all waters and all manners of fishing. Fly Casting is our specialty (single hand and switch/spey), but we can also gear up for other angling methods if needed.

Our home water is the North Santiam and it's tributaries. We've grown up and/or raised families within sight or a stone's throw from these waters. We aren't hired guns that blow into town during fishing season to guide. We live on this water 24 X 7 X 365!

Book your trip now!



What our clients are saying......
I really enjoyed talking to Dave. I received a lot of good tips on casting, especially Spey technique.



Dave is a very knowledgeable angler, guide and instructor. Dave expertly and safely navigated the Santiam River while proving lots of fishing opportunities.
I enjoyed everything. Conversation, his knowledge of the river, the lunch, the scenery, his skill handling the boat, the instruction and encouragement. A genuinely nice person to spend the day with.



Dave was very personable, and did a great job guiding. Maybe the best guide I've ever had.

December 2018

Fish Species:
Steelhead
Rainbow Trout
Cutthroat Trout

Bug Species:
Various Caddis
Various Mayflies
Various Stoneflies

Fly Patterns
Metal Butt Skunk (Steelhead)
Bunny Matuka (Steelhead)
Skinny Thor (Steelhead)
Leggy Stone (Trout)
Possie Bugger (Trout)
Soft Hackle (Trout)
Lightening Bug (Trout)



Full Report

Proud Supporter of:



and:



Hydroplots:

North Santiam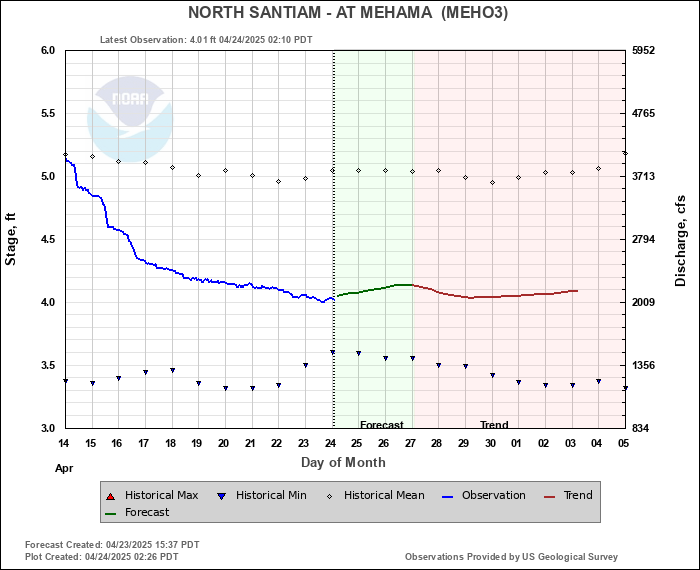 Nestucca Tides